About us
Find
+
Rent
+
Share
Office Spaces and Skills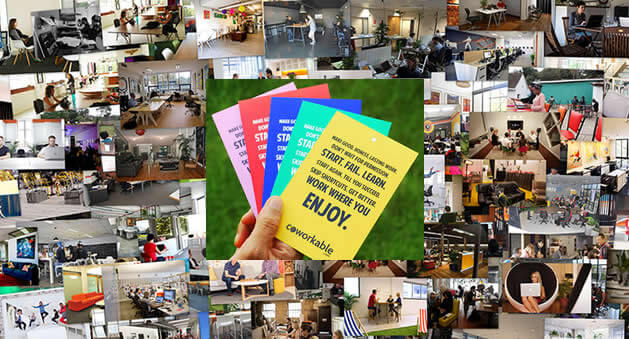 About Coworkable
Coworkable.com is a global platform to Find + Rent or List, Shared Office Spaces, Coworking Spaces, Hacker Spaces or Skills for Startups, Individuals, Freelancers, Home Offices and Small & Medium Businesses.
We are an Award-winning, super smart folks working towards the great mission to make the world a happiest place to Work and Enjoy.
Benefits of using Coworkable
Coworkable.com, helping 1000's of Startups, Entrepreneurs, Freelancers, Home Offices and Small & Medium Business to easily:
Find affordable cost, Shared Office Spaces, Desks, Conference rooms and Skills to save money. As working in a Shared Office Space is less expensive than Renting full own office space.
Rent or Share their Idle and Spare Office Spaces, Desks, Conference rooms, Skills and Office infrastructures like internet, projector, printer, coffee machine, etc., with other Entrepreneurs, Startups, and Freelancers to Monetize and earn extra money.
Share Office spaces or Skills based on an hour or day to weeks or months as they want. The place and timing in working such places are flexible and has a reasonable cost. Working at a desired place, and desired time.
Provides the opportunity to meet and interact with professionals of various fields, by gaining knowledge from their experiences through expanding their business networks and skills.
The core attraction for Startups and Entrepreneurs using Coworkable.com is that it gets easier for them to access Shared Office Spaces and Skills they required for their Business through Collaboration.
So, you too got idle Office Space or Skills to share? Then just List and Share it to Save and Earn Money.


List My Office Space or Skills
( It's easy & completely FREE! )

Nice things people say about us (view all testimonials)
Coworkable.com helps startups to share office resources and it offers a great opportunity to network with potentially valuable contacts for ideas.

–

ZDNet

| Asia
Being frequent business traveller, I used to work in big budget offices. But Coworkable.com changed everything and made my life simple & concentrate on my core businesses.

–

Junwei Huang

| Singapore
Congratulations to the Coworkable.com team on starting something so relevant for Startups and Entrepreneurs :-).

–

Shradha Sharma

| Founder & Chief Editor, yourstory
Congrats on the good initiative of Coworkable.com. I came across it at the right time when I am looking for a shared office space to start my business.

–

Manikandan M S

| India
By sharing our office space through Coworkable.com, it opened up more opportunity and gets to meet required talents for our business.

–

Fernan Vecina

| Malaysia
I like the concept, look and feel of Coworkable.com website, pass on my congrats to your team.

–

Manish Maheshwari

| Managing Director, txtWeb @ Intuit
In the beginning, I really doubt about how this Coworkable thing would work. When I gave a try by listing our unused space, it actually helped to grow my business and provided me an opportunity to make money. Well done Coworkable!

–

Brendan Wang

| Hong Kong
Thanks Coworkable.com for assisting me to save lots of my time, money and in finding perfect office space for my venture.

–

Jayanta Biswas

| India
I am so thrilled to meet new professional visiting our shared space through Coworkable.com. Couple of them even helped us to test our product and also got valuable feedbacks from them.

–

Wanchang Ashotyan

| Singapore
Using your Coworkable.com I was able to find an affordable cost office space at a centred location all just likes a Jiffy. I couldn't believe this.

–

Conrad Miguel G.

| Philippines
With a clutter free design, the Coworkable.com website looks quite user friendly and easy to use. A shared company environment is any day more preferable than working in isolation as it encourages a co-operative and a friendly atmosphere.

–

Vaishali Sharma

| CEO & Chief Editor, Startoholics
More about Coworkable.com Brand:
Why we chose 'Rubber band ball' as our Mascot?
We are also a for-profit social venture.